Every so often we will be required to change our Workday app passwords. The process can be very frustrating. If you are having issues logging into Workday you may need to reset your password.
We have 2 different identifying numbers GM uses for employees.
GMIN – Your badge number. This is 9 Digits (all numbers) This is your global GM Employee number. You will use this for payroll and benefit stuff, as well as job postings etc.
GMID – This is a 6 digit code (usually 5 letters and 1 number). Its a login to gain you access to GMs digital employee services. This number was assigned to us when the new payroll system launched. It doesn't change either.
Both these numbers should be written down and saved as they will be needed
To reset your password:
Visit gmid.gm.com
Click on password reset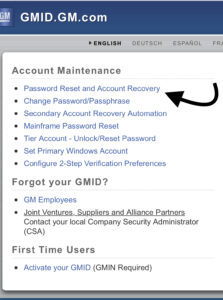 Enter your GMID, GMIN and Last name. Click next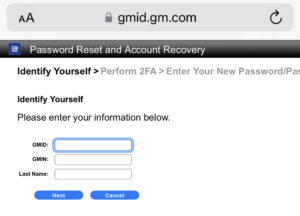 The two factor screen (blue) will pop up and a code can be sent to your email or device. This ensures its you logging into that. 
Enter the code.
Identify the GM logo that pops up
Follow the instructions on the next screen to create a new password.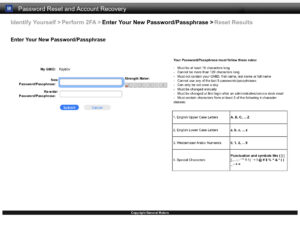 Next screen should show password change was successful. Write down new password and login to workday.
TO LOOKUP GMID (6 digit number) used for Workday.
Visit http://gmid.gm.com
Under FORGOT YOUR GMID click GM Employees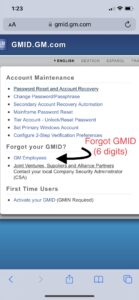 Enter your First name, Last Name and GMIN (badge number). Click search.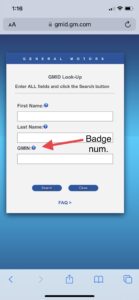 The next screen will show you your GMID. Screenshot it or write it down.
Previously, you would need someone that can actually login to do this for you. Like a co-worker however it doesn't appear that's happening now. If it does ask you to login. Reach out to a co-worker who can and follow the steps again.
*** The Microsoft email it asks you for when connecting to payroll within the workday app is your GMID plus @nam.corp.gm.com
IE: ######@nam.corp.gm.com
For additional resources or to see more information on this. Visit our helpful links section on this site or:
https://www.gmcamiassembly.ca/en/home/no_search/cami-employee.html
If you continue to have issues please reach out to Tyler Vere – tyler.vere@gm.com