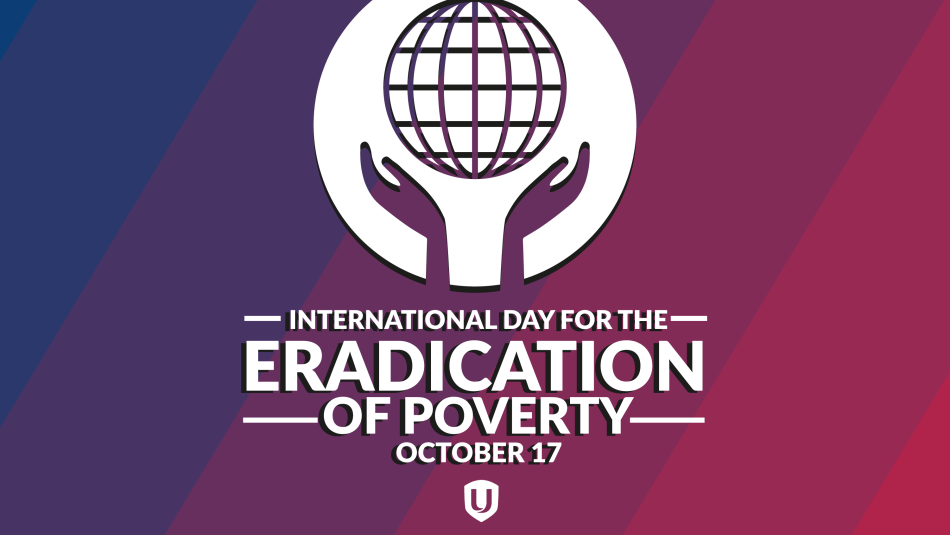 On October 17th, Unifor will observe the International Day for the Eradication of Poverty—a day when we stand in solidarity with all those affected by the scourge of poverty and income inequality.
Approximately 8.5% of the world's population lives in extreme poverty, earning less than $2.15 (USD) a day. In Canada, 2.8 million people – or 7.4% of the population — are living below the poverty line.
Rising food prices, as well as the cost of housing and basic necessities are pushing families to the brink. Meanwhile, corporations continue to amass record profits, while global wealth generated by workers continues to be concentrated into fewer and fewer hands.
For equity groups, including women, Indigenous, Black and people of colour, as well as immigrants, people with disabilities and those from the LGBTQ+ community, issues of poverty are compounded due to systemic discrimination and economic and social exclusion.
This year, the UN has chosen the theme for October 17th to be Decent Work and Social Protection: Putting dignity in practice for all.
As a labour union, we know that a job covered by a collective agreement is the single most effective way to protect against poverty.  The positive relationship between union status and poverty reduction has been well established. Even living in a region where union density is being sustained has been directly linked to reduced risk of poverty for everyone, including non-union workers.
Unions safeguard our social protections from further erosion, including strengthening our income security programs such as Employment Insurance (EI) and Old Age Security , protecting access to universal public health care, promoting public child care.  eldercare programs and for an expanded pharmacare program. In addition, Unifor fights for investment in affordable housing and expanded retirement security at all political levels,, including with the federal government.
The roots of inequality are complex, and are a product of a number of social, economic and political factors that not only trap people into poverty, but also reproduce it, generationally. Lifting workers and families out of poverty, however, is not impossible. It only requires the political will power and effective programs and policy interventions to make it happen.
We also recognize that we cannot achieve this goal in isolation. Through Unifor's Social Justice Fund, we collaborate with NGOs and community organizations of all sizes, both in Canada and around the world, to make substantial contributions to poverty reduction while also mitigating some of its most damaging effects. Employing a multi-pronged approach, we empower individuals with the tools to break free from the cycle of poverty while ensuring immediate basic needs are met, including access to education, healthcare, clean water, sanitation, employment, housing, and food security.
The economic costs of poverty are significant, but the social costs can be even greater. Unifor remains committed to organizing and supporting workers, advocating for decent jobs, and working alongside our national and international partners to build an inclusive and equitable world where all people can live in dignity.
Here's how you can take action: Download our shareable and join us in making your voice heard. Together, we can amplify our collective efforts to eradicate poverty, promote social justice, and build a more equitable world for all.
Your support and advocacy are vital in this ongoing struggle for a brighter, poverty-free future.
Together, we can create lasting change.