A Message From the EFAP Office:
The winter blues have surfaced and my phone has been busy – our membership knows we are covered, and I want our deaf members to know that you are a part of our membership, and you are not alone – LifeWorks counseling is as easy as a TEXT – Download the LifeWorks APP – fill in the ID and Password – and click on CHAT A LifeWorks member will get you set up with a counselor in no time Stay safe, and reach out — I'll be here.
Dave Simmons
Employee Family Assistance FT Rep (EFAP)
Unifor Local 88
519 521 7051
davidlsimmons1@gmail.com
Download The Lifeworks App below
Open App and Click on Signup
Enter this information: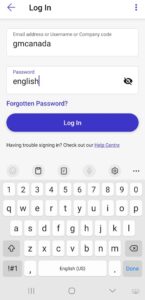 Click on this menu and select CHAT. You will be directed to an outside link and the chat will connect.