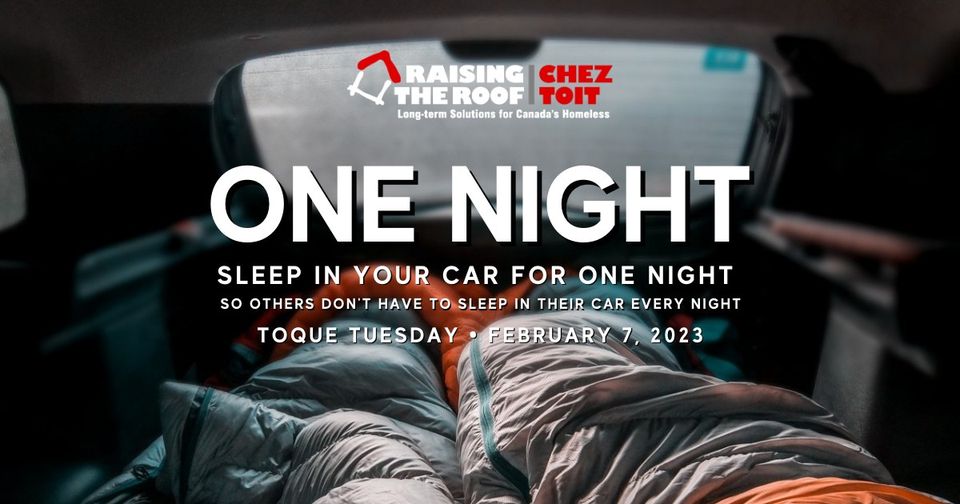 Unifor is committed to building solidarity with anti-poverty activists and organizations across the country, expanding our advocacy on access to affordable housing, and using our voice to address the root causes of economic injustice and insecurity today.
As part of the union's ongoing work to help prevent and end homelessness, we are asking you to help support a new Raising the Roof fundraising event called One Night.
During Covid, there has been an increase in people experiencing homelessness, especially "hidden homelessness," sleeping on couches, cars and other precarious situations.
On Feb. 7, 2023, during the 26th annual Toque Tuesday, Raising the Roof will give people a small taste of what hundreds of Canadians experience each night by having One Night event participants sleep in their cars or sleep rough for one night to raise money for Raising the Roof's homelessness prevention programs.
Unlike the true experience of those who are underhoused, this event will be safe with security, blankets, hot drinks, washroom facilities and first aid on site. If the weather is dangerously cold the event may be shortened or altered.
In Canada, more than 235,000 people experience homelessness in any given year, according to StatsCan and 25,000 to 35,000 people may be experiencing homelessness on any given night.
Unifor locals and members can support this worthy cause by signing up as individuals or as a group. Please contact Greg Burton once you've registered.
We encourage locals to participate in regions where actions are taking place, or to consider making a donation.
For more information, visit raisingtheroof.org.
View this event on our website here.