This year we have moved Vacation Selection – Round 1, to an online proxy tool.
All team members will complete an online proxy to select their 2023/2024 vacation weeks. We will not use the manual calendar we have used in previous years.
The online proxy selection tool will be available between March 29, 2023, and April 28, 2023. The results will be compiled in early May and communicated to all team members later in May.
Completing the proxy is not a confirmation of your vacation weeks. Your vacation selections will not be confirmed until later in May.
Detailed instructions on how to complete the online proxy process can be found on the online proxy tool.
To complete the vacation proxy please click on the link below:
Vacation allotment is indicated below.
Grow in seniority – less than 8 years.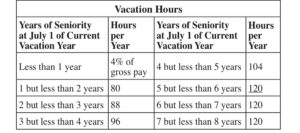 Seniority greater then 8 years reverts to this chart (160)